Attention Deficit Disorder is recognized as one of the most common behavioral problems affecting kids today. It can cause problems not just with school and learning but also with peer relationships and family interactions. For patients new to Amherst Pediatrics, or seeking to be assessed for ADHD, we review all the available information, including grade reports, psychologist or psychiatrist reports, as well as questionnaires returned from both parents and teachers. We review the child's history fully and make recommendations for treatment, both medication and behavioral. Patients are monitored at regular intervals using both parent and teacher reports and clinical interviews/exams with their pediatrician. Many children have ADHD in association with some other health issue such as depression, anxiety, or oppositional behavior. Amherst Pediatrics is fortunate to have working with us, Janine Artis, LMHC, who assesses patients and helps us in deciding the best approach to each individual child.
If you would like your child to be evaluated, we would recommend the following approach: for children under 7, call and ask to speak to Janine regarding the assessment process for young children. For children who are 7 years and older, please download and complete the parent assessment, download the teacher assessment form and ask your child's teacher to complete it. Then gather together your child's school grade reports, prior school psychologist or psychiatric evaluations, and IEP or 504 plans. Once that has all been completed, call the office to set up an appointment with Janine. Please drop off all of the materials prior to your child's appointment.
Below, please find helpful information regarding parental and educational approaches that are effective for children with ADHD.
ADHD Treatment: Important Documents
What to Expect
Parent Assessment
Teacher Assessment
School Release of Information
Video Links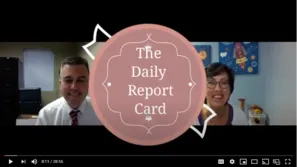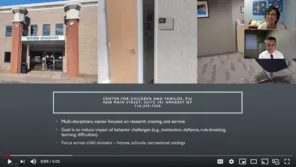 Interview with Dr. Fabiano about The Daily Report Card Information about the Center for Children and Families
Links and Resources

CHADD
ADDitude Online Magazine
Fact sheet
ADHD Myths and Misunderstandings
Parent tools
10 Rules for Parents of Defiant Kids with ADHD
30 Great Accommodations for Children with ADHD
IEP vs. 504: What's the Difference?
Required Reading for Parents of Kids with ADHD
Daily Report Card How To's
The Daily Report Card
Homework Ideas That Work